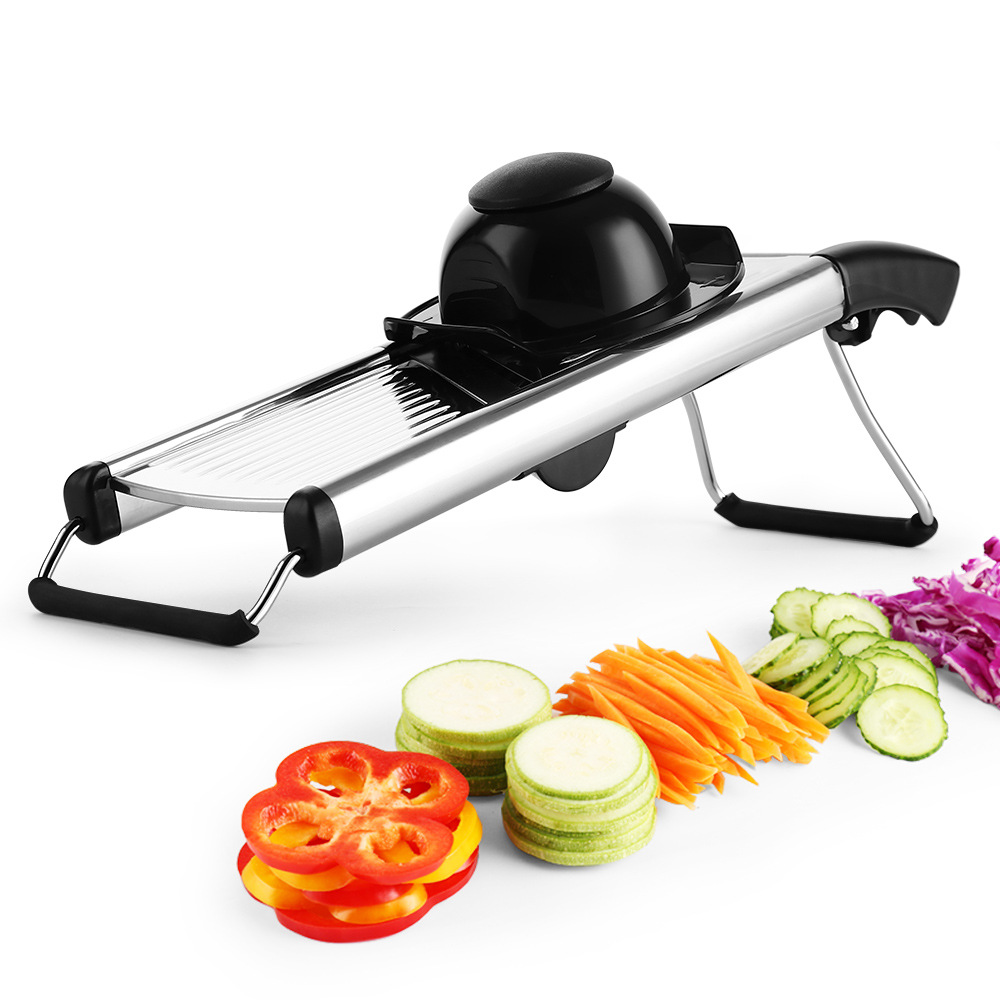 Description
Adjustable Stainless Steel Blades French Fry Cutter Food Fruit Vegetable Chopper Potato Onion Chip veggie Mandoline Slicer
WHILE OTHER MANDOLINE SLICERS CAN BE DANGEROUS AND EVEN SLICE YOUR FINGERS, ours is the ONLY mandoline that comes with what you need for safely slicing veggies. No need to touch the blades - EVER. Ours is the only slicer that comes with what YOU NEED FOR SAFELY SLICING your veggies. Cut-resistant SAFETY GLOVES. A BLADE GUARD for storage. A FOOD HOLDER for slicing. A specially-designed BRUSH for cleaning. NO WORRIES about your fingers - cut veggies safely and easily.
WHEN OTHER SLICERS BREAK, DULL, BEND OR CHIP, our blade is extremely sharp, TOP GRADE 4CR15 stainless steel unlikely to chip, dull or bend. Other slicers may tear up, make uneven cuts or destroy your veggies. With our slicer, you get a clean, even cut - NO HASSLE OR HEADACHE. The vegetable slicer body is professional quality with easy to clean surgical stainless steel. Durable black plastic accents. Will stand the test of time, becoming your favorite kitchen gadgets.
Our ADJUSTABLE BLADE dial ends fumbling for accessories and storage headaches. No hunting through your kitchen junk drawer for your favorite blade! All slicing options are built-in on our device. Slice from extremely thin to 9mm thick. Two julienne settings - 4.5mm and 9mm. NO TOUCHING BLADE to change it out. Our cutter makes quick, healthy veggie based meals, potato chips or french fries FAST AND SAFE. Unit folds flat for easy storage in a drawer.
CUSTOMER CARE PROMISE: we strive to create complete customer satisfaction, period. Our customers mean more to us than our sales. If you are unhappy with your mandoline food slicer for any reason, we will replace or refund your order. Zero questions asked. WHY WE DO WHAT WE DO: We use our products daily and we only use the best - of quality AND value for the money. We provide the exact same for our customers.